We are the Brake & Suspension Specialist of Western Sydney
Brakes that work effortlessly bring out the peak performance of the car and enhance your driving experience, but most importantly, they play a crucial role in your safety.
We provide impeccable service for car brakes, and therefore we are considered as the Car Brake Specialist in Toongabbie, Westmead, Parramatta, Pendle Hill, and other Suburbs of Western Sydney. Our professional mechanics repair and replace components of the brakes in a wide range of Cars, Vans, and 4WDs.
Repair & Replacement of damaged Brake Parts

Relining of Disc Brakes

Disc and Drum Machining

Disc Grinding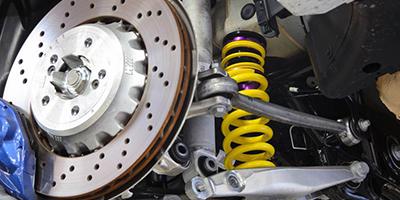 Though, there are various signals that your car brakes give whenever there is something wrong or unusual in their functioning, such as squeaking brake pads, you should not wait for the problems to show up and take your car to the brake repairs and service centre in Sydney in every few months as a measure to avoid the enormous brake service cost in the future.
To drive with stability on the road, a correct amount of friction is necessary between car tires and the surface of the road, and this is accomplished by the car suspension system. Therefore, you can clearly understand how the suspension system of your car keeps you and your loved ones safe on the road.
As the Car Suspension Specialist of Girraween, Seven Hills, Blacktown, Wentworthville, and nearby Western Sydney Suburbs, we conduct repairs & scheduled maintenance of all types of suspension systems with complete ease.
Signs your Car Suspension System needs to be checked:
When a car pulls to one side while driving

When every bump or pothole is felt

When a car stops late on applying the brake

When one car corner is lower than others

When your ride becomes uncomfortable
You ought to follow the same principle with the suspense system as in brakes, i.e., visit Car Workshop at periodic intervals to keep an eye on the condition of your car suspension system.
We offer following Services for Vehicle Suspension in Sydney:
Replacing Shock Absorbers

Replacing Struts

Replacing Springs
At times, a fault in steering system can also affect suspension system, and hence we repair the steering system as well, for bringing back your car from the state of 'risky' to the state of 'safe and comfortable'.