The Bankable Car Mechanic in Western Sydney Suburbs for Starter Motor
The Starter Motor is the first part to work when you turn on the ignition as it draws electric current from the battery to start the engine.
Hence, when the engine of your car cranks slowly or even worse doesn't crack at all, despite your multiple efforts to start the car, there could be a mistake in the starter motor or any other component of starting and charging system. As this system includes several elements – both visible & hidden, you need to get it inspected only by the technicians who are armed with experience and attention to detail to conduct Starter Motor Repairs and Replacement in Sydney.
You can rely on our auto electricians who replace the starter motor in a broad range of vehicles with quick turnaround time.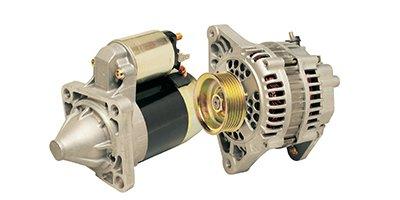 We test the starter motor & other parts to arrive at a conclusion about the fault

We use branded starter motors for replacing the old ones in the vehicles
Our team focuses on providing satisfactory service for all needs related to the starter motor and the entire starting and charging system.
The Smart Car Servicing Team in Sydney for Car Alternator
While you are driving your car, the alternator keeps on recharging the battery, and also helps the components of car auto electrics to function, for example, the interior & exterior lights, power windows, windshield wipers, switches, dashboard, etc.
And so, noticing the fault in an alternator is easy, as even dim lights can give you a hint of the same. However, the auto-electrical system is quite intricate, and hence, instead of doing the guesswork, you should come to us, as our team can discover the issue and resolve it.
We diagnose the alternator and related parts to get the wholesome picture of the underlying issue and provide cost-effective repairs and replacement service.
We provide service for Starter Motor and Alternator throughout Westmead, Seven Hills, Paramatta, Blacktown, and other areas of Western Sydney. Our auto electricians keep you informed about the process and clarify all your doubts.